Con Fusion
One fine Tuesday, I arrived at work to find this box on my desk: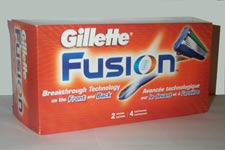 Strange, this must have been a mistake or something. I inquired quite loudly to a co-worker, "What's with this Gillete Fusion box?". "It's a gift", was the reply. "Am I not shaving enough or something?", I joked, and everyone laughed.
A colleague came over to me and explained that a rep from Gillette came the day before and, like Santa, gave everyone in the office a box of two Gillette Fusion razors each. I was working from home that day, thus I missed out on the fun. Apparently the rep said that he went to our website and saw all the pictures of unshaven programmers on it, and decided to give us these gifts. Right - nice ruse.
This was one upgrade that I didn't need. I usually shave infrequently (usually twice a week), and one razor blade will usually last me a month - and oh, I have about 10 blades left from the Costco 16 pack I bought some time ago. Most of the time we have to deal with clients over the phone, so not being close shaven is ok. I held out using the Gillette Sensor and not upgrading to a Mach 3 - until I got one as a gift. Besides - Sensor blades cost the same as Mach 3 ones, so it didn't make a difference if I upgraded.
The total cost of the package - 2 razors and 4 blades - would have cost (2 x $13.99 + 1 x $17.99)= $45.97 Canadian, without taxes. Pretty generous gift. But it doesn't make economic sense to upgrade - a 4 pack of Fusion razors costs $17.99 Canadian, versus a 4 pack of Mach 3s at $11.49 each. Thats a 57% increase in expenditure for razors if I chose to go the Fusion route! Nice try, Gillette.
Maybe I should just keep a sharpened machete handy, and shave like Crocodile Dundee…
[another reason to be wary of Gillette, with the most silliest anti-shoplifting campaign ever… no wonder new version Gillette blades cannot be picked up off the shelves here in Canada and can only be bought near or behind the counter)