Why I chose the Pentax K10D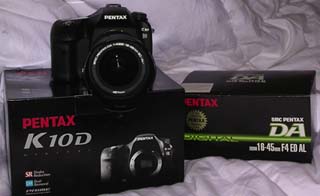 My photographer profile:
I am between an amateur and semi-pro (or that's where I want to be)
I like to use existing light, I prefer not to use the flash at all
I want to use manual instead of automatic settings, I like to tinker (I am a software developer after all!)
I don't have an existing lens collection
I like in a SLR, in order of importance: image quality (esp. at low light conditions or high ISO), body features, body quality
I am not too concerned with lens selection, since I am probably going to use only a few good lenses, not a wide range (unless LBA takes over me!)
I think I will do lots of low-light photography (indoor, night shots, winter shots)
I will be shooting in moisture rich conditions
The last two points are important, because I live in the Vancouver area, where it is wet almost all the time, and cloudy obviously. I narrowed down my choices to three cameras (all 10MP): the Canon Digital Rebel XTi, the Nikon D80, and Sony A100. The Pentax K10D wasn't even in the picture yet, until I saw the review at Popular Photography , DPReview and AnandTech [via the OK1000 Pentax Blog].
All of the cameras I mentioned are good cameras – but only the K10D balanced what I wanted in a SLR based on my profile above. Here are some of the features, plus my comments:
Shake Reduction -- the A100 has it too, but Nikon and Canon have that feature only in their lenses, not their bodies.
Dust Reduction -- the A100 and XTi have this feature. Nikon does not have it in their D80
Weather Seals -- none of the other models have this feature, except in their higher end models (Canon 1-series, Nikon D200)
Pentaprism viewfinder -- the A100 and D80 have this large viewfinder mechanism, but the XTi uses a smaller viewfinder that is pentamirror
Spot Metering -- all the other cameras I mentioned have this capability except for the XTi. The Canon 30D has this capability, and I even considered it because of Canon's "Double Rebate" offer, but then I saw the K10D ;)
Dedicated RAW button -- This is quite useful for the primarily JPEG shooter. This toggles between your current format setting to RAW+JPEG. So if you shoot primarily in JPEG and need to get the next shot off that includes a RAW file for greater flexibility, you can do so easily. Conversely, if you primarily shoot in RAW and want a JPEG also, you can do so using the RAW button (but less useful, see the next point about in-camera RAW processing)
In-camera RAW processing -- Some will wonder, why would you want to do so, when your workflow probably includes a PC for RAW processing later? One reason I can think of is, to free up space on your memory card for shots that don't need to be in RAW in the first place because you probably don't need to tweak it further
Image quality -- across the board they look almost the same to me. But the A100 seems to be grainier at higher ISOs so that rules out the A100 for me. The D80 has ISO 3200 which none of the others have, and it has better noise reduction at higher ISOs.
Body quality -- All the bodies seem fine, except for the XTi which seems too small for my hands.
DNG support -- the K10D supports DNG as a RAW format. Not too important for me, but a nice feature to have in the body. Future-proofs your RAW images since DNG is an open spec. However, a 10MP DNG file takes 16MB of space, instead of Pentax's proprietary PEF format which only takes up 10MB of space. However, the DNG can be further processed on your computer using Adobe DNG Converter, which can losslessly compress the 16MB DNG file to about 10MB. It's probably uncompressed on the K10D because its faster to do so, obviously for continuous shots. A side effect however, is that Pentax Photo Laboratory will not open these compressed DNG files.
Top LCD -- all of the cameras I mentioned except the A100 and XTi have a top LCD. I find a top LCD invaluable when changing settings.
Application support -- current lack of support for Pentax K10D PEF files in Apple's Aperture/iPhoto or Adobe Lightroom/Camera Raw, but that might change, who knows when. That's probably why Pentax included the DNG support, because using the included software on my Mac is just not optimal. [Update] Aperture supports the K10D in the OS X 10.4.9 update, and Lightroom in its recently released version 1.0 (wasn't in the beta)
So there you have it. I chose the Pentax K10D more for its pluses instead of the other cameras' minuses. If it wasn't for the K10D, I would have picked up a Nikon D80 instead. I picked up a K10D body, plus a DA 16-45mm F4 ED AL lens, at my local London Drugs (all the online stores out of province were out of stock). I've only had it a day or so, but I think I will need a faster, wider lens – the FA 50mm F1.4 for low-light photography. Also none of the current lenses for Pentax have weather sealing, I hear the ones that do come out in March 2007 (uh-oh, am I getting lens buying addiction or LBA???). Oh, I also took some test photos of my cats, using the K10D.
[Update] I ordered the FA 1.4 50MM prime Pentax lens from B&H, very nice piece of glass, I use this the most, very sharp and I get a few more stops more light compared to my F4 (about 8x more light!), perfect for low-light situations.